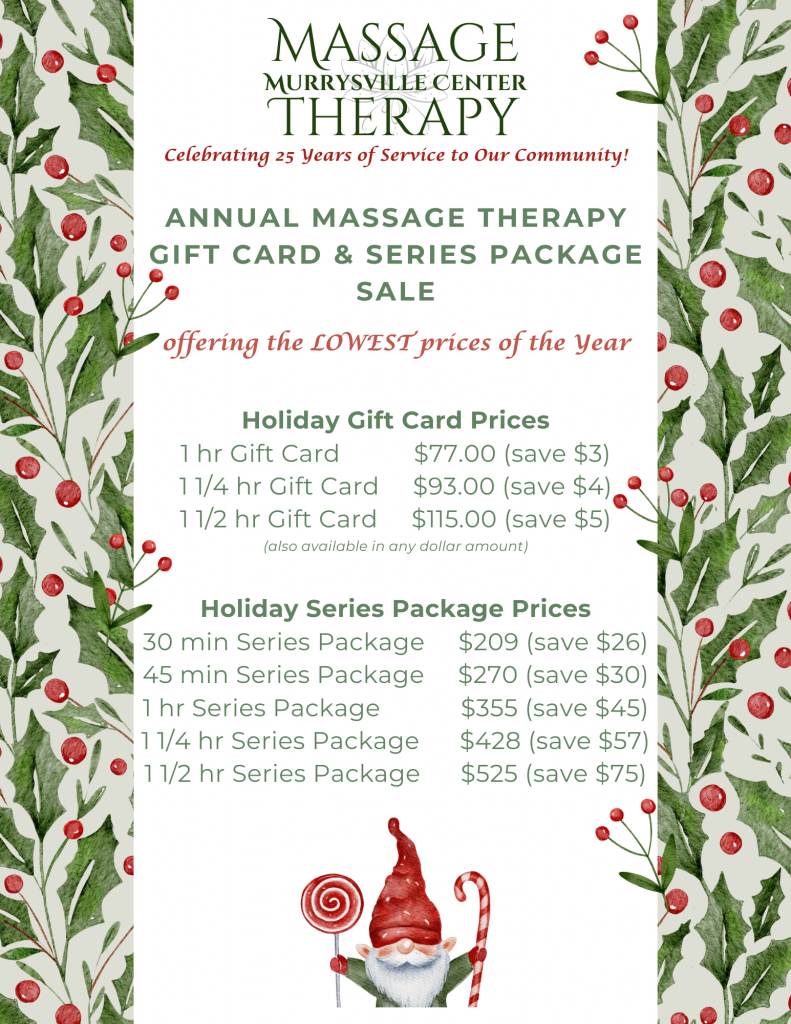 Purchase online between November 23 – 27 for an additional Black Friday Bonus! *
Welcome to Murrysville Healing Arts, a facility created to promote healing of the mind, body and spirit. Housed within these walls are:
Murrysville Center for Massage Therapy
An established massage therapy practice specializing in stressmanagement, pain relief, and relaxation. Gift certificates available.
(Online Scheduling and Gift Card Purchases links will take you to our site on Vagaro.com)
Healing Arts Yoga
A yoga practice dedicated to heightening awareness of the mind-body-spirit connection and promoting relaxation, stimulation, and restoration of balance through asana, pranayama, and meditation.
FALL 2023 YOGA SCHEDULE AVAILABLE (THRU NOVEMBER 30, 2023)
Brandy Maupin, Licensed Acupuncturist
An acupuncture practice dedicated to treating and empowering the whole body to heal and remain strong. www.murrysvilleacupuncture.com
Daniel M. Halden, D.C.
A chiropractic practice, certified in Applied Kinesiology and specializing in helping people with difficult to treat conditions. www.drhalden.com
Barbara Jean Nagrant, Ph.D.
A clinical psychology practice committed to facilitate healing by providing a compassionate presence in which to explore challenges and struggles and celebrate successes. www.drnagrant.com
Check out FALL 2023 Yoga Schedule!
Private Yoga Lessons Available!
Call for details

Massage Therapy Series Cards
Save on all your massage sessions with one of our Series Cards!
See our Services page for pricing…
Notice: Effective for all Massage Therapy and Reiki services occurring after January 1, 2024, a slight price increase of approximately $2/hour will apply.